Industrial Plastics
The selection of the correct plastic material to use to suit the application and environmental conditions is the key factor in the success of any plastic product. QD have a vast knowledge base in the field of Industrial and technical plastics.

In response to recent advancements in the qualifications and accreditation available for plastic welding QD has become one of a select few plastics fabrication firms in the UK to have our plastic welders trained and accredited to EN 13067. The qualification covers PVC, Polyethylene, Polypropylene and PVDF, this was deemed to be an important factor in setting QD ahead of other plastic fabrication firms.

Materials used in projects vary from ESD (antistatic) Plastics, High Temperature Chemically Resistant plastics to the latest In FM4910 Grade materials for semiconductor processing applications. Some of the materials QD have used are FM4910 PVC, CPVC, PVC, HALAR, PVDF, PEEK, ACETAL (POM), NYLONS, CELMAR, POLYPROPELYNES, HD POLYETHELYNES, ABS, PETG, ACRYLIC, POLYCARBONATE, TUFFNOL.

The considered selection of the correct material is essential to a successful and long lasting product, QD will guide you through this process with ease.

For more technical information view our Downloads & data sheets page. or contact us.
Guarding and production solutions
Every manufacturing and sub assembly facility needs to abide by the ever increasing Health and Safety laws which are imposed on their particular production process. QD design and manufacturer guards which provide the solution to these problems.

A simple sketch from the client or a short visit from a QD technical representative is all that is required for a guard to be manufactured to solve these particular issues. Distance is no barrier, up to date web based communications and a fast efficient distribution network enable a guard or production solution to be designed, manufactured and dispatched to destinations across the world.
Typical solutions in Guarding are:
• Conveyor enclosures & guards
• Chemical plant spray screens
• Semiconductor process shields
• Beverage industry laser guards
• Guards on client manufactured process machinery
When it comes to production processing there is always a problem that in some way may have its solution in a QD product. From dispensing slides and boxes in an electronics assembly plant to Spray paint shields for the automotive industry a solution can always be found.
Typical solutions in Production aids are:
• Custom made ABS chutes & part trays
• Padded polypropelyne & foam transportation boxes
• Custom hazard & classified waste bins
• Spray paint shields
• Robust part handling & wash trays
• Room set silicone and urethane production nest mouldings
• ESD / Antistatic / conductive part handling items
• Fluid tanks, bunds and associated pipe work
These are just some examples of previous works, if you think the solution may be in a QD product please contact our technical representative and let QD find the solution to your problems.
Products for the bottling, food and beverage industries
As with most companies there is always an industry that is geographically associated with its location, this is also true for QD. Our factory is based within the heart of a town long associated with the blending and production of beverages such as whisky.

The knowledge gained from working close to several multinational companies in this industry over a 40-year period has made the progression into other food and beverage companies a simple process. Some of the main products supplied to these industries are listed below, but are not exhaustive, so if you cannot see the product you require please contact a technical representative at QD for assistance.
Fabrications of:
• Machine & line guards
• Tanks, bins and wash trolleys
• Hopper feed tube systems
• Waste & feed specialist plumbing lines
Manufacture of:
• Wear strip , chain guides and bumping strips
• Change parts
• Polycarbonate automated box packer guide fingers
• Polypropylenes grids for hand boxing
• Bottle neck guides
• Signs and safety plaques
• Label spotting dogs

Research & development apparatus
Since the companies' beginnings in 1965, Universities, government departments and private companies have commissioned QD to build a wide range of experimental test vessels and research apparatus. In recent years most of these products have been manufactured in clear materials such as PERSPEX, PVC and PETG. Apparatus manufactured from these materials allow our clients to visibly determine if a process or reaction is a success or requires refinements. All this enables reduced research time enabling their product or process to "get to market" before the competition.

The main areas of industry - which utilize QD's valuable "research tool products" - are from within the oil, biomedical, water, fluids and chemical manufacturing industries. The size of the apparatus QD. manufacture is wide ranging. Some parts being as small as 2mm or below, and some so large they have a capacity of up to 5 tones of water. Free blown domes up to 1.5m in diameter allow for large semi-pressure vessels to be manufactured with very similar end product shape as the vessel upon which they are modeled.

Our products are designed to suit the clients exact needs so a process of development and design in tandem with QD and the client will always lead to the best quality result.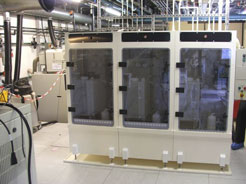 Semiconductor Process Cabinet
Perspex Vacuum Chamber Glove box

Bottling

Perspex Research Apparatus